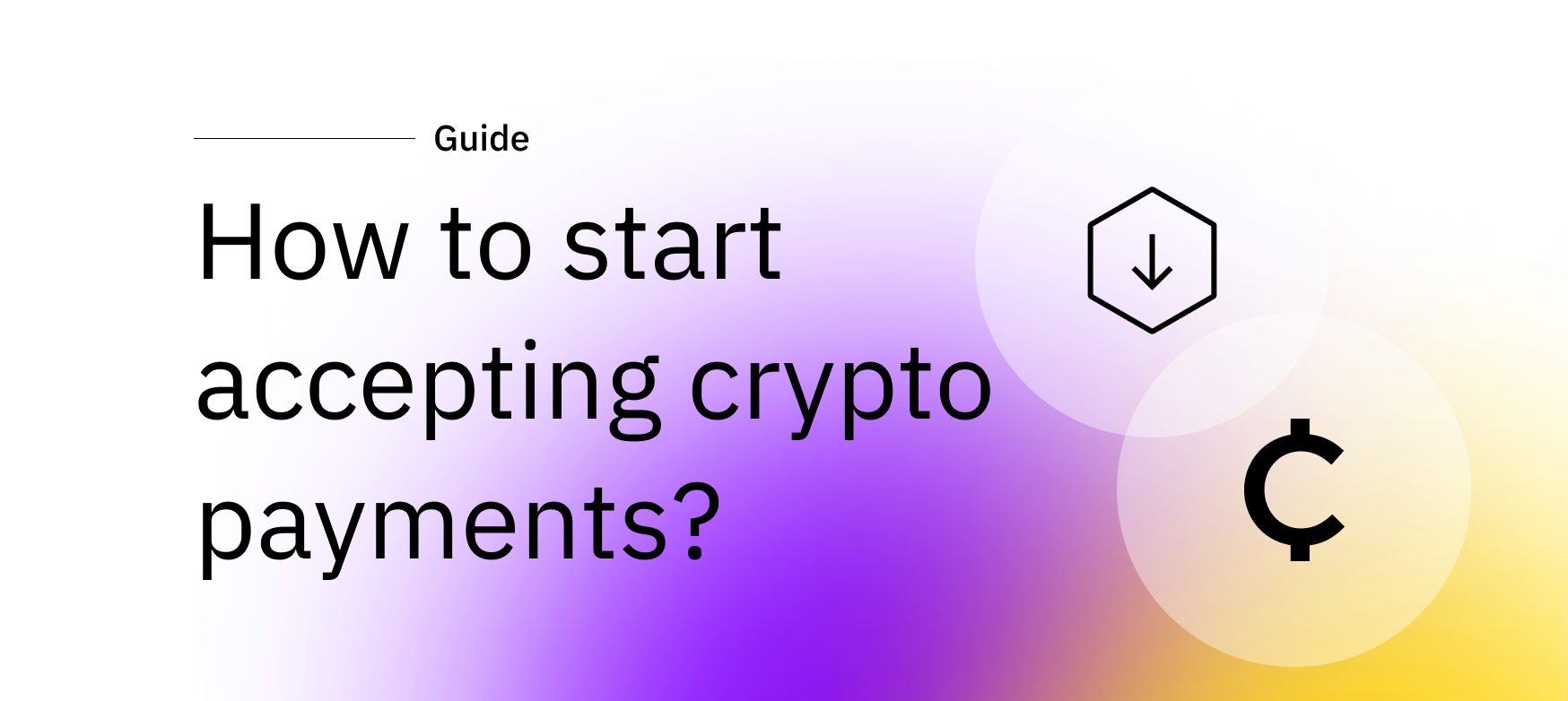 How can a business start accepting crypto?
Accepting cryptocurrency payments in your business is easier and more convenient than ever. Confirmo enables your customers to pay with crypto through multiple channels that all lead to your account. Let's take a look how you can start today!
Confirmo offers a range of solutions to enable companies of any size to accept crypto payments on the leading cryptocurrency networks. These include Bitcoin (on-chain and Lightning), Ethereum, Solana, USDT & USDC, among others. Your customers can choose which cryptocurrency to pay with, and all payments are settled to your Confirmo account from where you can withdraw your funds to a crypto wallet or bank account. Let's have a look at the simple process to get you started right away.
Whenever you create a payment request with Confirmo, you receive the funds to your account. Creating one requires only an email and password. Make sure you don't use the same password as for the email you use to sign up! Creating the account is completely free.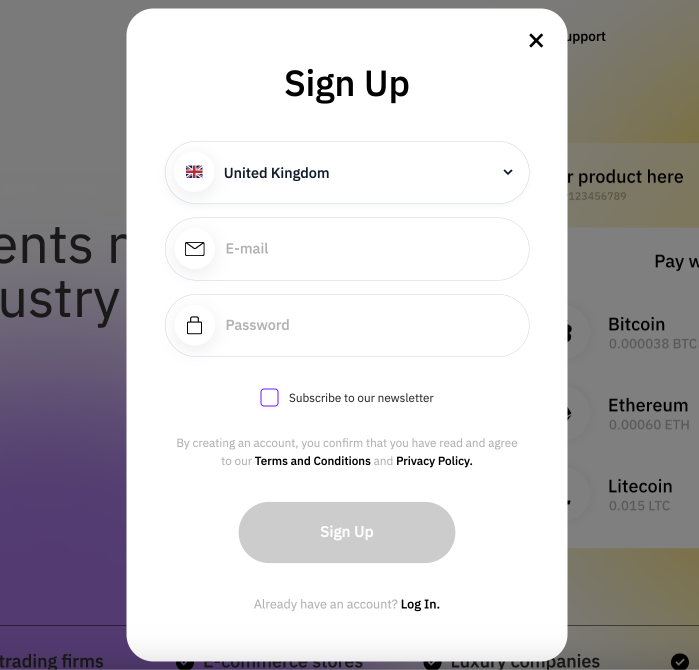 Once you have created your profile, we recommend that you set up two-factor authentication right away. You can do so in Settings – Security. Read more about security best practices and how to optimally secure your Confirmo account here.
2. Set up your public profile
Although this step is optional, we recommend that you do not skip it. Your public profile is displayed on your invoices, so making it clear who issued the invoice is a great way to increase your customers' trust. You can do so in Settings – Public profile. Upload your logo, fill in additional company information, and add contact details! Read more about setting up your public profile here.
Confirmo offers a payment gateway, email invoicing, payment & donation buttons, and a point-of-sale app (BTC LN only). Each creates unique invoices with QR codes, which the end user scans with their crypto wallet to send the funds to your account. Together, these solutions offer an integrated system for accepting crypto payments in any business, be it an e-shop or brick-and-mortar store. New payment options are created in your dashboard via the Payment tools menu. Payments received through all these channels are settled to your Confirmo account, and carry a fixed 0.8% fee, save for our POS app, which is completely free. Let's have a look at the different payment options to see which fits your needs best!
Confirmo's API-based payment gateway can be used to add a cryptocurrency payment method to your online business' checkout flow. It automatically generates a unique QR code invoice for every initiated payment, and is also compatible with most browser wallets. Pass this link to your developers, they will know what to do.
Confirmo's crypto payment gateway the ideal solution for businesses and enterprises which need to automate their crypto payment flow. This is particularly useful for ecommerce, prop trading, and forex brokers, as companies in these industries typically process a large amount of daily payments.
Confirmo's manual email crypto invoices are perfect when you need to make a payment request for a fixed amount to be sent directly to a customer. Creating an email invoice is really simple and quick – it takes less than 2 minutes! Navigate to Payment tools and select Email invoices. You can choose whether you want to receive the customer's cryptocurrency, or have it converted to bitcoin or fiat. Afterwards, you simply fill out the product name, price, and additional optional information. At the end, you can choose to receive a copy of the invoice to the email associated with your account.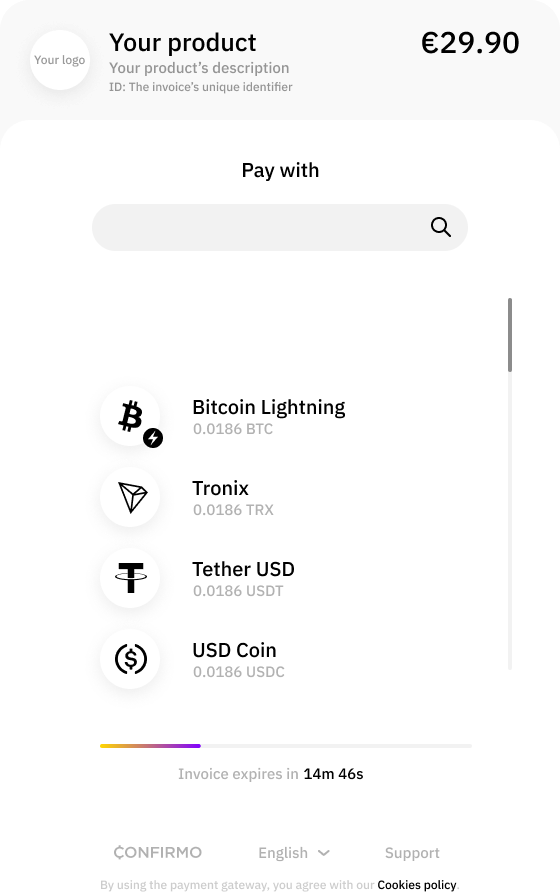 Confirmo's payment and donation buttons are ideal if you want a simple element on your website which can generate crypto QR invoices. The difference between a payment and donation button is that payment buttons require that you specify the amount which the customer is to pay. Donation buttons, on the other hand, let the visitors of your site choose how much they wish to donate themselves.
Confirmo's crypto point of sale is an application available for iOS and Android which allows you to accept in-person payments in Bitcoin Lightning. It is completely free – downloading, using, and receiving weekly Settlements to your bank account carries no fees. Read how to get started accepting satoshis at your store, live event or venue in minutes in our detailed guide, or read more on our wiki.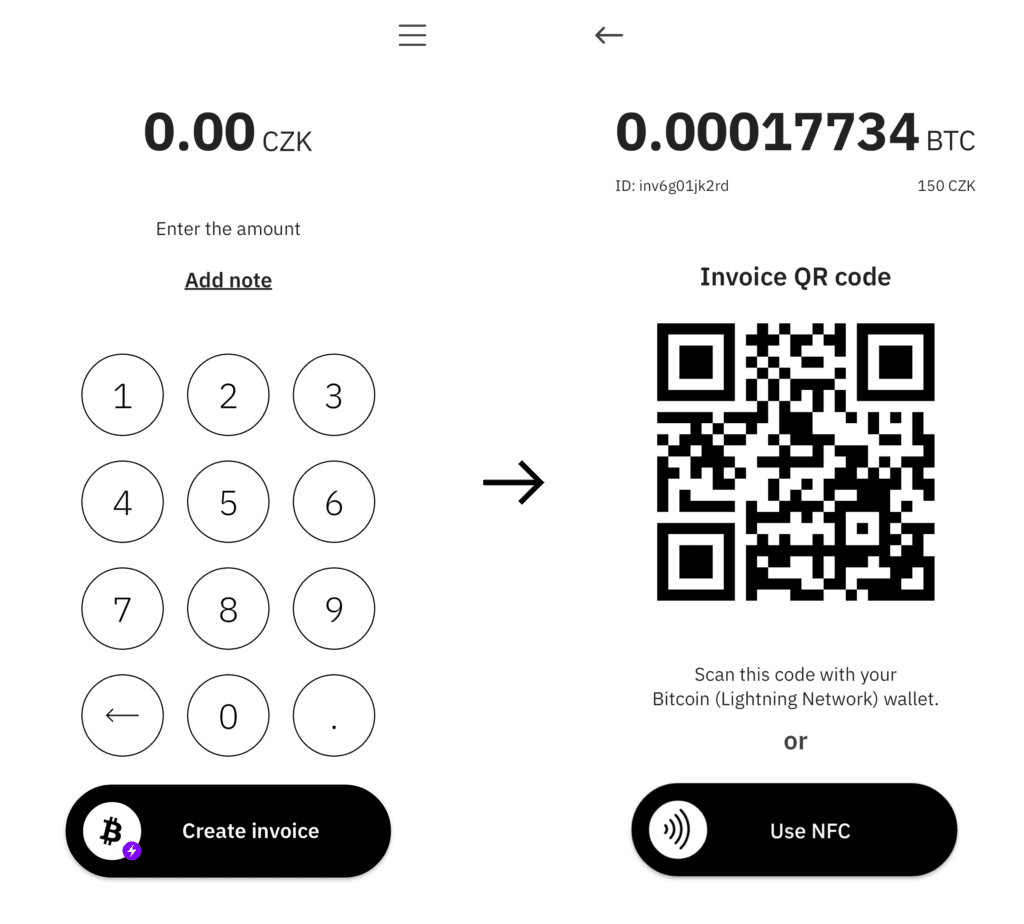 Confirmo has a WooCommerce plugin which you can implement into your WordPress website to accept cryptocurrency payments to your account. The plug-and-play plugin is available through the WordPress plugin store, and you can also implement it into your website manually. It takes just a couple minutes to set up, so head over to our GitHub to read the full documentation.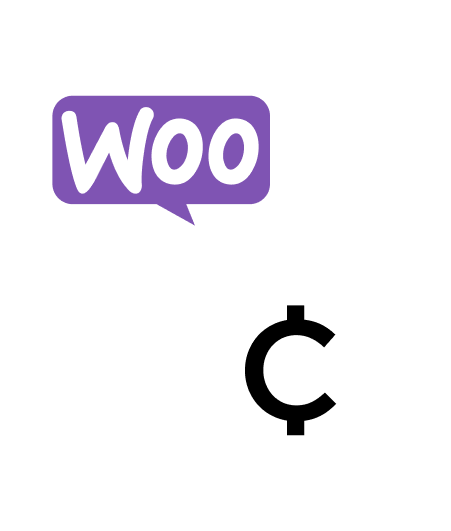 4. Receiving a payment
Once you have set up one (or all) of these methods for creating crypto invoices, you only need to wait for your first customer to make their payment! You can allow notifications in your Settings to make sure you don't miss any new payment. Once the funds have arrived to your account, you can withdraw them using Settlements or Payouts after you have verified your account.
And that's it! At this point, you should be able to receive cryptocurrency payments in your business. If this wasn't enough and you want to know more about cryptocurrencies and Confirmo, read our Getting started article, browse our wiki, or read more on our website. Should you encounter any issues during or after the implementation, do not hesitate to reach out to our customer service at [email protected].