What is POS and why should you care about it?
POS stands for Point-of-Sale, an app that helps you to receive Bitcoin Lightning payments. Thanks to Bitcoin Lightning Network, payments are a matter of seconds.
Everything is simple, fast, and highly secure. The app is paired with your Confirmo account. The App converts lightning payments into FIAT currencies with daily settlement into your Bank account or the merchant can sweep all bitcoins to his bitcoin wallet. All transactions processed via Confirmo Point-of-Sale are free of charge.
Type in the requested amount
The app will generate the unique QR code
Your customer scans the code or taps their NFC LN tag
The funds are credited to your account or wallet instantly
And what are the fees? There aren't any.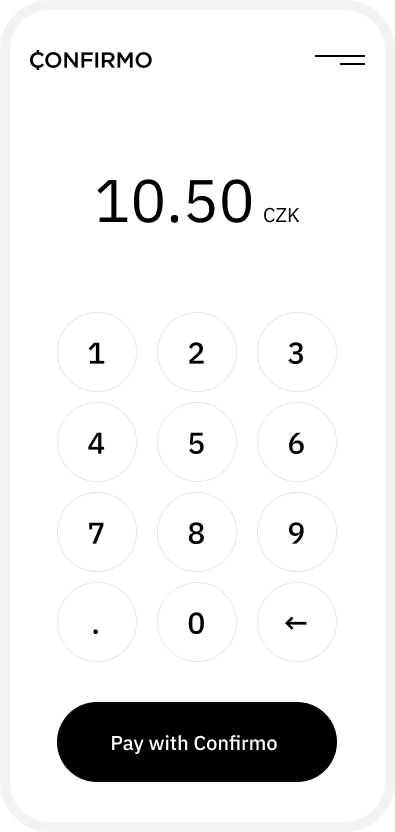 Download on the App Store
Get it on Google Play

Compare Confirmo POS vs other solutions.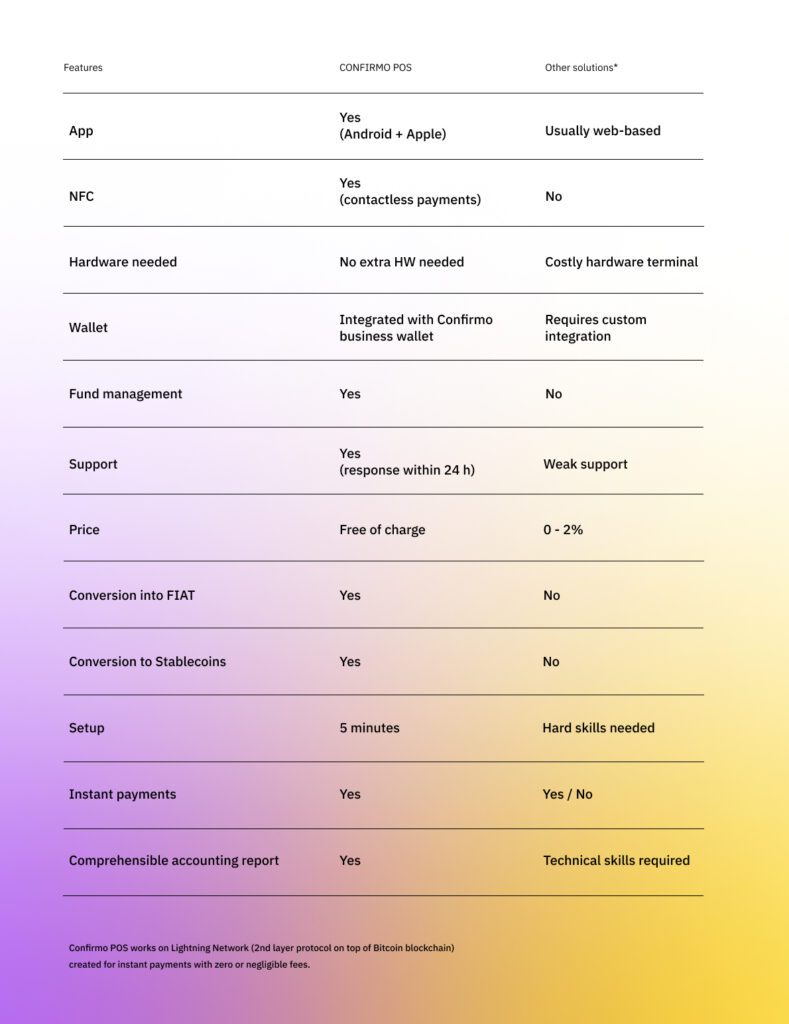 FAQ
How fast is the payment?
Instant (1-10 seconds). Confirmo POS is built on top of the Lightning Network protocol (Bitcoin's 2nd layer) that enables reliable, instantaneous bitcoin payments and unlimited scaling.
Which crypto can I use in the POS terminal?
Confirmo's POS supports Bitcoin Lightning only. Why? Because the Lightning network is the only reliable instant crypto payment method.
Point-of-sale terminals supporting the Bitcoin blockchain, Litecoin, etc. are not instant by design and have never been intended to be used for small coffee payments. On-chain payments do not have a payment protocol that ensures a flawless transfer of crypto funds.
Which lightning wallet should the customer use?
Phoenix wallet
Wallet of Satoshi
Blue wallet
Muun
Breez
Could you recommend bitcoin lightning resources?
Bitcoin lightning capacity, channels, and nodes in graphs
https://bitcoinvisuals.com/ln-capacity
https://bitcoinvisuals.com/ln-channels
https://bitcoinvisuals.com/ln-nodes
Lightning network statistics
https://1ml.com/statistics
https://amboss.space/
Books and resources
Insights from LN node operator (PDF download)
Lightning network platby budoucnosti (PDF download)
Mastering the Lightning Network
Lightning network on WIKI
https://www.lopp.net/lightning-information.html
https://lightningnetworkstores.com/faucet
How to get paid even faster?
We recommend all users paying with lightning to open a channel with Confirmo public bitcoin lightning node to ensure instant and free payments from their lightning wallets.
02ff30e83896d453cfc8[email protected]:9735
CONFIRMO.net public LN node
NODE INFO:
https://amboss.space/node/02ff30e83896d453cfc89ff4dd06d23d793b7246f154c210324adc1d42c849ce74
https://1ml.com/node/02ff30e83896d453cfc89ff4dd06d23d793b7246f154c210324adc1d42c849ce74
How to get free satoshis?
Use one of the faucets that send you free sats https://lightningnetworkstores.com/faucet
How to pay?
By scanning a QR code from the mobile device. If the user has an NFC tag or his wallet supports NFC technology, the payment can be initiated by moving a mobile phone or NFC tag near the Confirmo's point of sale (PoS) reader.