Here we are with the next tutorial to help you navigate all the settings on Confirmo with ease. Today, we'd like to show you a little bit more about settlement settings. These are vital to receiving funds you collected through invoices from your customers. Also, according to settlement methods you set-up, corresponding options will be available on the invoice setting page. For example, setting up a BTC and EUR settlement methods automatically enables invoice setting to receive the funds in either of these two currencies. You can also create just one, or many more if needed.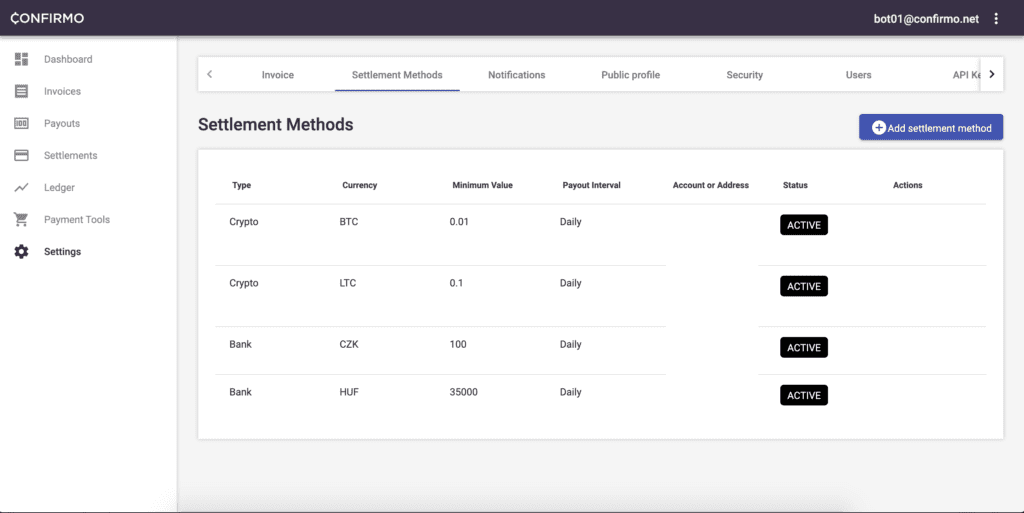 To open the settlement settings, please navigate to the Settings menu -> Settlement settings. There, you can find a list of your already created settlement methods, these can be edited if necessary.
To create a new one, just click the "+ add settlement method" button. First, you'd have to choose, if you want to use the crypto or FIAT settlement method. After so, you can find detailed payment method settings. In the case of crypto, you'll choose a currency and input your receiving address. In the case of FIAT, we'd need an IBAN and SWIFT of your receiving bank account.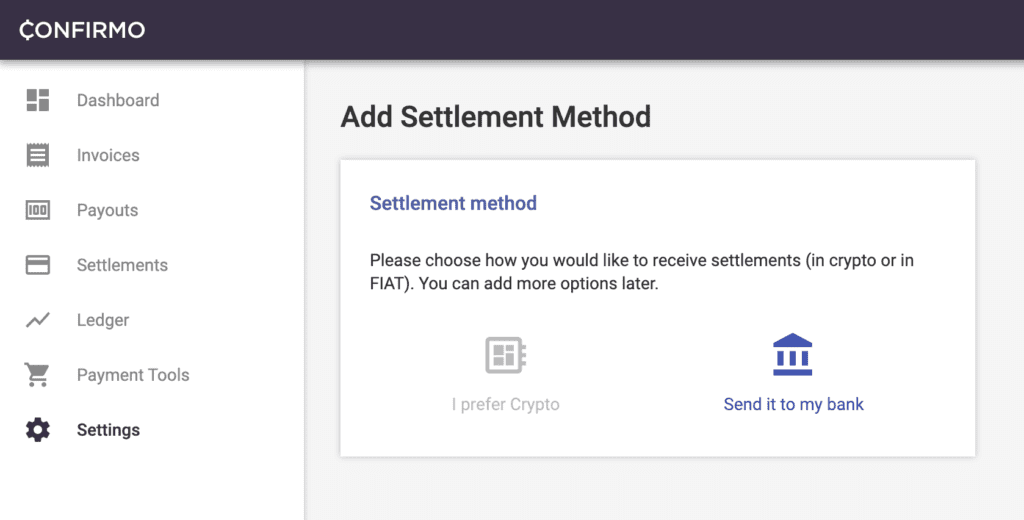 The latter settings define under which conditions the settlement is created. You can set a daily/weekly/monthly frequency, in case of weekly and monthly setting you can also define an exact day of the week or month. Minimum payout value defines a threshold for the settlement, the settlement will be created if your current balance is higher than the defined amount. And lastly the minimum keep balance, that is the amount that you want to always keep on your balance (suitable for businesses processing payouts).
The logic behind it is simple, once all the conditions are met, the settlement is created. The amount on your balance has to be higher than minimum keep balance + minimum payout value on the day you set-up to be the one for settling.
It is as easy as that, we hope that it suits your needs. If you miss anything there, let us know. Or, of course, in case you'd need to know anything else. We're here on [email protected] , waiting for your feedback.

---