Dear Confirmo users, we are back with some interesting news. Hope you are getting accustomed to the new interface we brought you with the last update. For sure, there is still a lot to fine-tune or to add there. If anything comes to your mind, that we still don't have, don't hesitate and drop us a line. This article will be about a feature that we implemented at the beginning, but since it was not perfect yet, we gave it some extra work, so it will satisfy all the needs we can imagine you, as a merchant working with Confirmo, can have.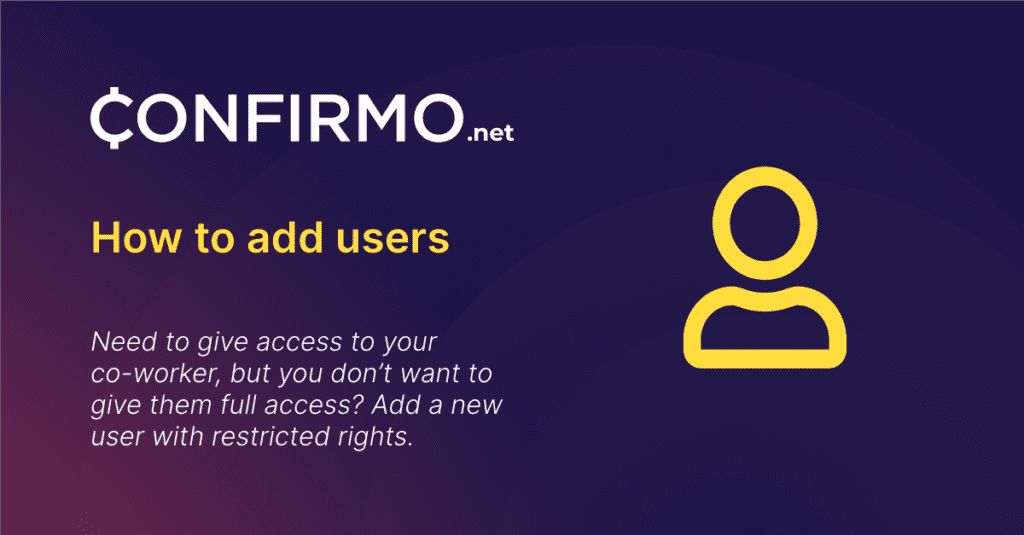 You probably noticed that we added subaccounts to Confirmo, so you can lend your colleagues, staff, or other associates various accounts with different restrictions. We broadened these categories with security in mind. And so now, there are four account types. One administrator login and 3 types of sub-accounts you can add any number of, to create one for each single person operation on your Confirmo back office. Keeping these correctly set keeps you sure that no one can manipulate the settings he or she is not authorized to. To establish a new user account, please refer to the Settings – Users menu.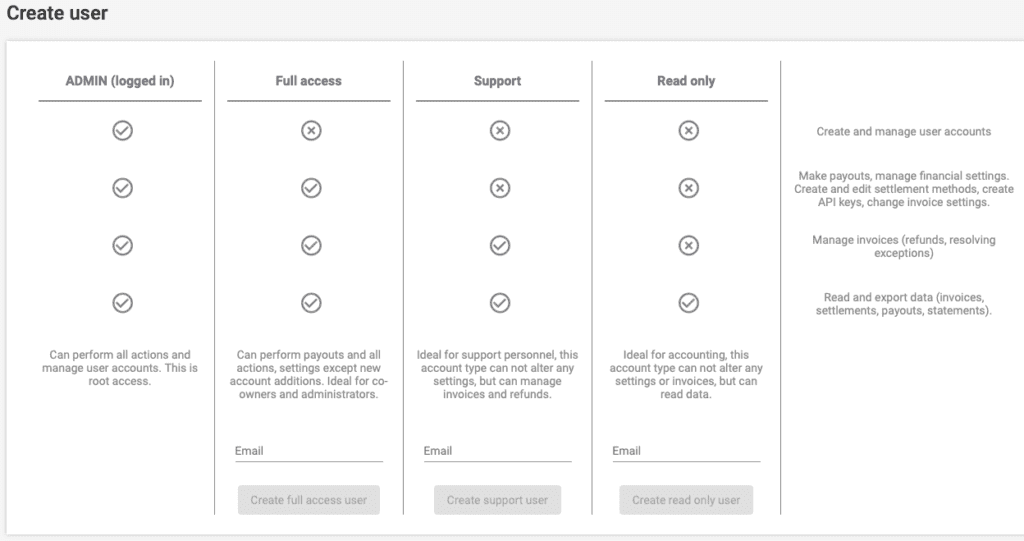 And what exactly are these account types and what are the restrictions? Here is an in-depth description:
Admin account
The initial owner account, which has access to all settings, only this one can create other user accounts.
Full access
This one is best suited for co-owners and high ranking staff. Full access accounts can not add new user accounts but have full access to settlement and invoice settings.
Support
Obviously, this one is tailored for support staff needs. Support account can not alter invoice or settlement settings, but it can still issue refunds and manage invoices with exceptions.
Read-only
And finally, read-only accounts, these are to be used for accounting personnel. Read-only accounts can not alter any settings or issue refunds but can access all financial history data.
This feature is designed to keep your funds safe even in case your company has many employees in different departments. Keeping these correctly set will minimize the probability of unauthorized access or any other missteps. Also, minimizes eventual fallout if any of your lower level subaccounts is breached.
We all hope you like this new feature. And if you'd need us to add anything else, don't hesitate to drop us a line.
Your Confirmo team