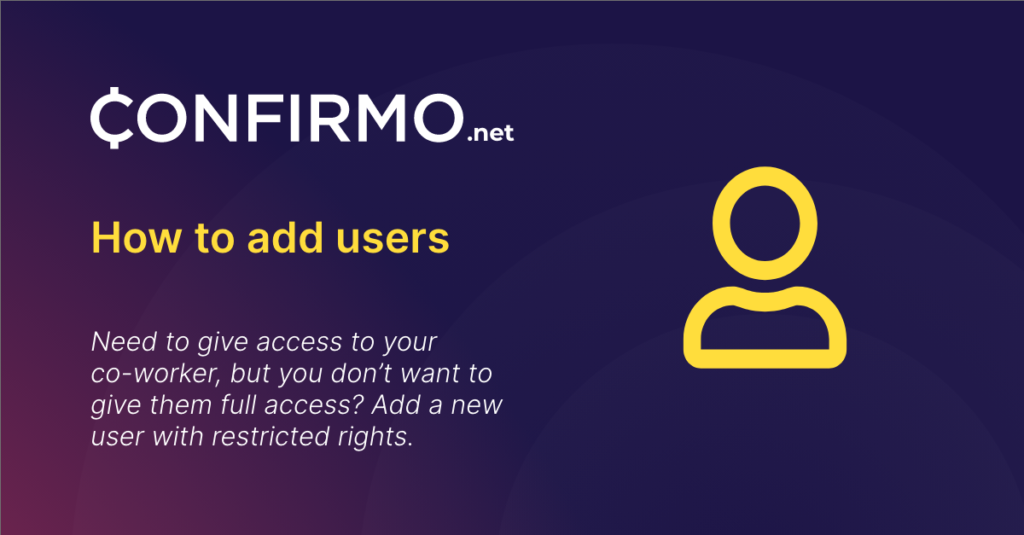 Today, we will have a look at a feature that has been part of Confirmo accounts since the beginning, but which has recently seen some important updates. So, what are sub-accounts and how can you leverage them in your business?
You may have noticed that we have added sub-accounts to Confirmo accounts so that you can provide various access rights to your colleagues, employees or partners. The goal of the sub-account functionality is to maximize the usability of your account while maintaining security through need-to-know policies.
There are now four types of access to a Confirmo account. The person who created the account has an Administrator login, and can create any number of the three types of sub-accounts for different people accessing the Confirmo account. By setting these up and providing them to the relevant people, you can be sure that no one will be able to change the settings or conduct operations they are not authorized to. To create a new user account, go to the Settings – Users menu in your dashboard.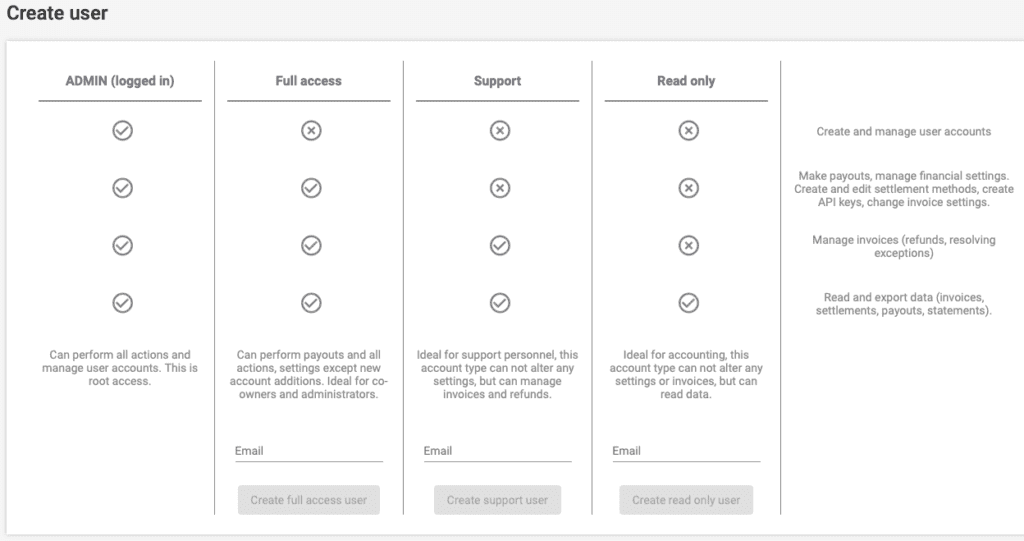 Let's now have a closer look at the different Confirmo access right sub-accounts.
Admin
The owner who created the account has access to all settings, and is the only access type which can create sub-accounts.
Operations
Operations (formerly Full Access) is best suited for co-owners and high ranking staff. Operations accounts cannot add new user accounts, but have full access to account management, including Settlement methods and invoice settings.
Support
Support is ideal for your customer service personnel. This type of sub-account cannot change invoice or settlement settings, but can still issue refunds and manage invoices with exceptions.
Accounting
Accounting (formerly Read-only) accounts are best for accounting personnel. This type of access cannot change any settings or issue refunds, but can access all financial history data.
The sub-accounts feature is designed to keep your funds safe even if your company has many employees in different departments. When set correctly, sub-accounts will minimize the risk of unauthorized access or other missteps. It also minimizes potential problems if a lower-level subaccount is breached. We hope this article helps you better understand how to set up and use sub-accounts in your Confirmo account. Don't hesitate to contact us if there is anything else you would like to see added. We hope you enjoy the new interface in the latest update, stay tuned for more!