Do you fancy accepting crypto on your site? We bet you do!
As more and more companies are tapping into this new customer base, it almost starts to seem common to accept crypto for your goods or services.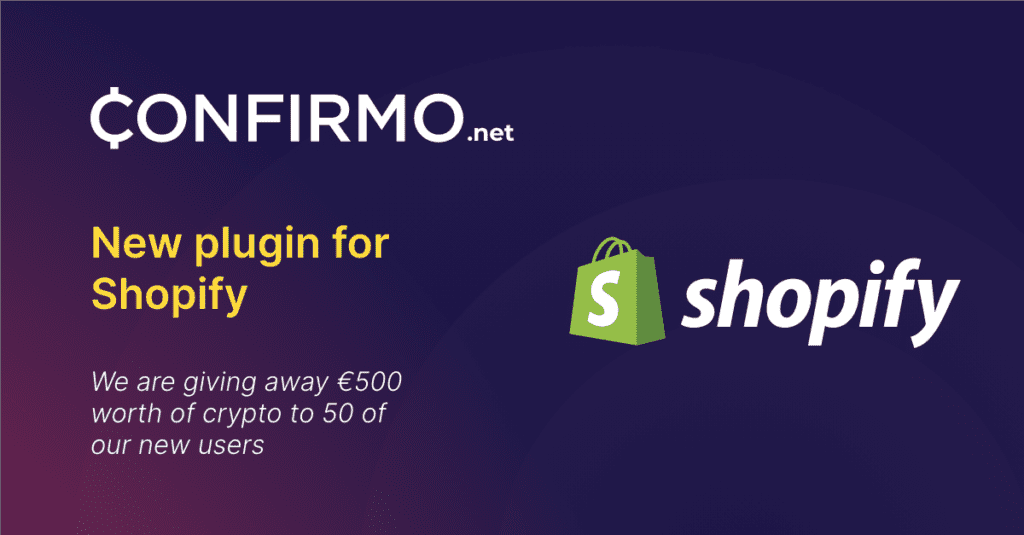 In case your site does not do so yet, you're reading the right article! And the more so, if you use the Shopify plugin on your website.
If you have a Shopify account but you don't use our plugin here is a step-by-step tutorial on how to install it.
Confirmo has provided cryptocurrency payment solutions since 2014. We managed to create a highly intuitive and convenient payment gateway that is able, amongst its other functions, to exchange your crypto earnings into FIAT currency immediately. It is highly intuitive with a well made APIary for additional implementation. Not to speak about our advanced invoicing functions. It hasn't ever been that easy to accept crypto.
To get to the bottom of this, we know that it takes more than just being out there to catch your attention. We also developed eshop plugins for Prestashop and Shopify. And to honour those of you joining us in upcoming weeks, we are giving away bonuses for new clients!
We'll hand around 500 EUR divided between the first 50 clients
Starting with 14th of October 2020 we'll hand around 500 EUR divided between the first 50 clients that will verify their account and issue their first successfully paid invoice through the Shopify plugin. And last but not least, we'll also provide zero fees for the upcoming three months to all the new Shopify merchants registered within the upcoming month.
You will be able to find more about this upcoming give away in our next blog article so stay tuned!
It's the best time to let the crypto earning start flowing in! With Confirmo you can not only try it for free, but even get a handy bonus for establishing this new payment method for your website.
We'll be looking forward to seeing you as one of our new clients and will be happy to help you with the implementation.
Yours truly, Confirmo.net team